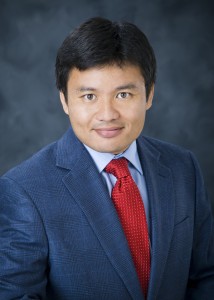 Yucheng Liu, associate professor of mechanical engineering, has been selected to be a fellow of the American Society of Mechanical Engineers (ASME) for exceptional engineering achievements and contributions to the engineering profession.   The rank of Fellow is the highest grade of membership in many professional organizations. It is awarded to members who have made a significant impact to their respective fields. Less than 3 percent of ASME members have received this honor.  Liu has been an active ASME member since 2007.  His service to ASME and dedication to the field of mechanical engineering prompted the nomination that led to this recognition.
His current research focuses on mutliscale modeling and simulation, high strain rate performance of materials, vehicle systems design and analysis, wave energy technology, etc.
Liu joined the mechanical engineering faculty at MSU in 2014. He received his Ph.D. and master's degrees in mechanical engineering from the University of Louisville.  He earned a B.S. degree in mechanical engineering from Hefei University of Technology in China where he was appointed as a guest professor in 2015.
For more information about the ASME Fellows Program click here.​