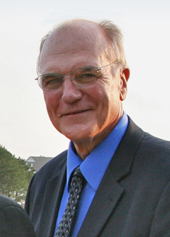 Professor 
Office: 217 Carpenter
Email: bammann@cavs.msstate.edu
Phone: 662-325-8822
Vita: Pdf
Education
Ph.D., University of Illinois, Urbana, Theoretical and Applied Mechanics, 1981
MS, University of Illinois, Urbana, Theoretical and Applied Mechanics, 1977
B.S., 1973 Illinois State University Normal, Physics, 1973
Experience Record
2007-present Professor – Mechanical Engineering, Mississippi State University, Mississippi State, MS
2007-present Vice Chair – Applied Mechanics Division and Materials Division Joint Committee on Constitutive Equations
1981-2007 Distinguished Member of Technical Staff, (Continuum Mechanics, Plasticity and Failure of Metals), Sandia National Laboratories, Livermore, CA
Specialty Areas
Coupled physics theoretical modeling, finite deformation inelasticity, damage evolution, fracture, penetration, and impact; numerical modeling of nano- and microstructural mechanics; finite element analyses of manufacturing methods such as forming, forging, and other metal processing methods; crashworthiness, and high-rate deformation.
Publications
Selected Publications:
Solanki, K.N., & Bammann, D. (Jul 2010). A Thermodynamic Framework for a Gradient Theory of Continuum Damage. Acta Mechanica, 213(1-2), 27-38.
Groh, S., Marin, E., Horstemeyer, M., & Bammann, D. (Aug 2009). Dislocation mobility in magnesium: A molecular dynamics/statics study. Modelling Simulation Material Science and Engineering, 17, 075009.
Tucker, M.T., Bammann, D., Park, S. J., Kwon, Y. S., & German, R. (Jun 2008). High Rate Deformation in Press-Sinter W-Cu Using Hopkinson Bar Test. Proceedings of the International Conference on Tungsten, Refractory and Hardmaterials VII, Metal Powder Industries Federation, Princeton, NJ.
Florea, R. S., Solanki, K.N., Hammi, Y., Bammann, D., & Castanier, M.P. (Aug 2010). AN EXPERIMENTAL STUDY OF MECHANICAL BEHAVIOR OF RESISTANCE SPOT WELDED ALUMINUM 6061-T6 JOINTS. Proceedings of the ASME International Mechanical Engineering Congress & Exposition, IMECE2010, Vancouver, British Columbia, Canada.