Knizley and Spayde Revolutionizing ME Freshman Experience
September 4, 2015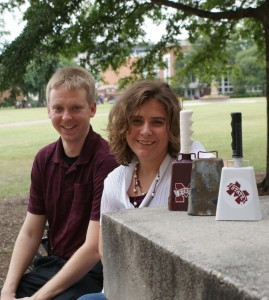 Mechanical Engineering Instructors Dr. Alta Knizley and Dustin Spayde have been doing an outstanding job working with our mechanical engineering freshman. Dr. Alta Knizley's and Dustin Spayde's Introduction to Mechanical Engineering Course is changing the way our freshmen prepare for successful college careers, perceive community responsibility, and are welcomed into the Mechanical Engineering Bulldog Pack.  "The dedication and hard work of Alta and Dustin is amazing and it is making a great impact in the lives of our young mechanical engineering students" said Mago, Mechanical Engineering Department Head.
Starting in 2013, ME 1111 was radically redefined to better serve our entering freshmen and the mechanical engineering faculty. Knizley and Spayde wanted to directly provide an environment that not only better prepare our entering freshmen for subsequent classes within the department, but also opened new lines of communication to our upperclassmen and faculty. "Developing a stronger and more structured workload while maintaining an open and welcoming atmosphere is a difficult task, but service-learning has paved the way for the new structure of ME 1111. We've found that these entering freshmen want to be challenged and, more importantly, want to be successful as ME students," stated Spayde. "These students have not only met our increased expectations, but continually surpass them. I'm repeatedly amazed at the abilities these students have when encouraged in the right direction. I also think that they are sometimes surprised by what they can accomplish as well," added Knizley.
This fall's freshmen Introduction to Mechanical Engineering (ME 1111) course is underway with all new service-learning projects. ME 1111's service-learning projects are all within our MSU-Golden Triangle community and help promote creative engineering design, project management, teamwork, innovative problem-solving, and communication proficiencies among MSU ME freshmen.  Most of this year's 185 freshmen students will be submitting competitive design proposals to meet our community partner's needs. Each student team will be required to design within operational and budgetary constraints, as well as professional safety standards where applicable.
Fall 2015 community partners and project descriptions are listed below.
MSU Autism Clinic: Design a mechanized reward distribution device for individuals under the clinic's care.
Sally Kate Winters Memorial Children's Home: Utilize an open plot on the home's grounds to design an outdoor fitness park for 11-17 year olds.
Brown and Langston Law Firm: Design a large scale interchangeable sign system for use in promoting local events and businesses.
4-H Robotics: Develop affordable robotic and 3D printing curriculum content to be distributed state-wide.
Oktibbeha County Humane Society: Design a material-efficient and cost-effective, all-weather, portable dog shelter to be distributed to adopting families.
Salvation Army: Design a new, secure but accessible donation drop vault for the Starkville division.
In addition, eight junior- or senior-level students have been selected as mentors to aid the freshmen teams in their designs and their transition to ME undergraduate life: Gentry Berry, Taylor Thoms, Cory Krivanec, Eric Horton, Demetre Holder, Cody McLaughlin, Paritosh Muley, and Micah Little.