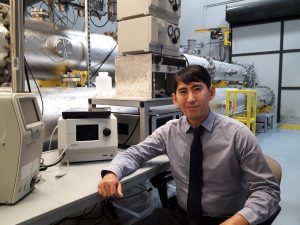 Dr. Heejin Cho received his bachelor's degree from Mississippi State University (MSU). After the end of the program, he decided to pursue his doctoral degree. His decision to continue his education at MSU was mainly influenced by his mentor Dr. Rogelio Luck. After earning his Ph.D. in 2009, Heejin began to work for Pacific Northwest National Laboratory (PNNL) as a research engineer. In 2013, he returned to his alma mater as an Assistant Professor. He is currently the TVA Endowed Associate Professor in the Department of Mechanical Engineering and Associate Director of Graduate Research in the Institute of Clean Energy Technology (ICET) at Mississippi State.
Energy research is one of Dr. Cho's passions. Some of his research investigates smart building energy systems, integrated distributed energy generation systems, and nuclear ventilation and cooling applications. His research is certainly making an impact not only in the state of Mississippi but nationwide. His research at PNNL and MSU has impacted the energy sectors all across the United States and worldwide. He has been the principal investigator on multiple funded projects (> $16M) from US Department of Energy, US Department of Defense, US national laboratories and industries. He has over 90 scholarly publications in the field of energy and environmental systems. He currently serves as a chair of the ASME's Renewable Energy and Energy Efficiency (REEE) Technical Committee within Advanced Energy Systems Division (ASME) and will serve as a General Chair for the ASME's International Conference on Energy Sustainability, June 28-30, 2021.
Heejin is also focused on building relationships with students on campus. He is constantly working on developing courses tailored to students interested in the energy system field. This past semester he taught a course named Energy Systems Conversions. This course teaches students how to design and analyze advanced energy systems. Along with working to create new courses for scholars, he is involved with several student organizations. Currently, he is the advisor for both the American Society of Heating, Refrigerating, and Air-Conditioning Engineers (ASHRAE) student organization and Mississippi State Energy Club at MSU.
As a Mississippi State faculty member, Dr. Cho is focused on making lasting connections with his students. He strives to see his students flourish and be able to help guide them during their time at university. He hopes to see his students succeed at Mississippi State and after graduation.
By Kaylee Wright