Bhushan's paper received the Robert T. Knapp Award from the ASME Fluids and Engineering Division
August 25, 2017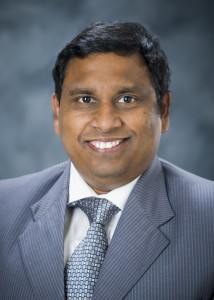 Shanti Bhushan and his collaborators' paper was selected to receive the Robert T. Knapp Award from the ASME Fluids and Engineering Division. The Robert T. Knapp award is presented for the most outstanding original papers pertaining to analytical or laboratory research in fluids engineering.   
Bhushan's paper "Analysis of Turbulence Generation and Energy Transfer Mechanisms in Boundary Layer Transition Using Direct Numerical Simulation" focuses on understanding the turbulence generation and energy transfer mechanisms, and identification of growth markers for boundary layer bypass transition using Direct Numerical Simulation.  (Paper No. FEDSM2016-7795).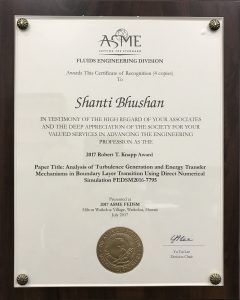 Congratulations to Dr. Bhushan and his collaborators Manish Borse, Keith Walters and Crystal L. Pasiliao.